City Aluminum Foundry was founded in 1980 in Waterford, Michigan and is owned by 3rd generation pattern makers and foundrymen.  We stand out from the crowd by providing high quality, intricate parts.  City Aluminum has obtained a variety of quality certifications over the years. We were certified under MIL-I-45208A in 1985, then NQS-9000 in 2001 and new ISO-9001 under TUV Rhineland in 2018, in our effort to always produce the best quality castings possible.
As often as possible, we strive to be a one-stop shop for your casting needs, providing pattern setup and maintenance, quality testing, core making, molding, finishing, blasting and heat treatment all under one roof.
We've expanded our operations to add a large new no-bake line in an 11,000 sq. ft. building, ensuring we will be able to meet the demand for rapid production of complicated parts that today's industry needs to compete in a global market.
40+ YEARS EXPERIENCE
If you are looking for experience you have came to the right place. We have been in business for over 40 years bringing creating parts for some of the largest companies in the world.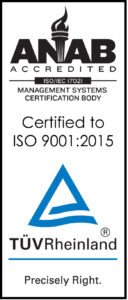 City Aluminum Foundry is committed to meeting our customers' requirements and enhancing satisfaction through continual improvement of its products, services and quality system.
Do you need help with pricing your project? Fill out this form to get in touch.