City Aluminum Foundry is committed to meeting our customers' requirements and enhancing satisfaction through continual improvement of its products, services and quality system. Quality manufacturing has always been part of the DNA of City Aluminum Foundry. Our goals have always been to make the very best product that can be made. Our new quality lab reinforces our commitment to always improve and advance.
GREEN SAND PARTS
Most foundries use the less expensive quartz sand. We use only olivine sand, to:

mitigate expansion defects,
produce molds that are dimensionally very stable,
provide a fine finish.

Our sand is reclaimed and mixed by a computer controlled muller, and the only emissions are steam.
NO BAKE SAND PARTS
We use resin-bonded silica sand that:

allows molding highly complex shapes,
holds its shape without worry of drying out where molds require a long or complex assembly procedure.

Our Isoset™ line uses SO2 gas for curing the binder. SO2 made cores are instantly hard and have excellent stability and reproducibility. It is fast and efficient and makes a superior quality core.
Our new high-capacity no-bake line can thermally reclaim and re-use sand to reduce the need to landfill waste sand. 99% of our sand is thermally processed, where the reclaimer burns off plastic and sizes the sand to remove fine, which improves permeability.  This allows the use of less binder in the mold, which means less combustibles in the sand, resulting in lower hydrogen gas porosity.
MELTING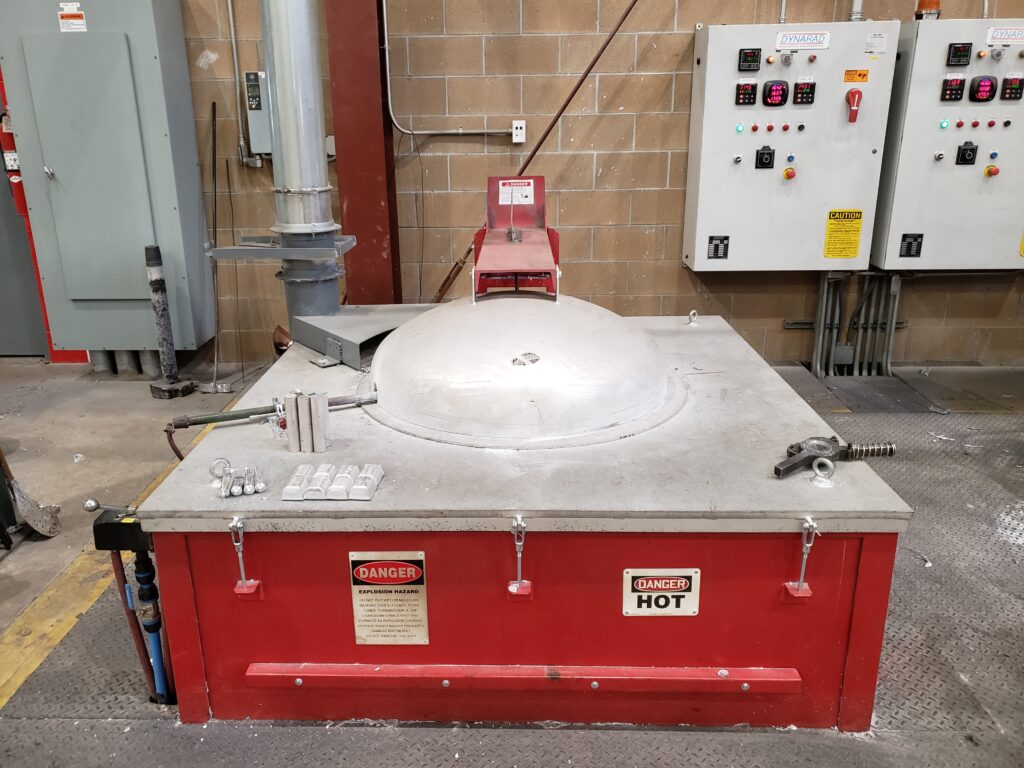 We use only electric resistance crucible furnaces which:

Are easily cleaned to prevent contamination when switching alloys
Operate without combustion gasses – avoiding a major source of defects.

All metal is treated with rotary flux injection to clean and degas it, and then checked for gas contamination with an RPT tester.
Every heat of metal is spectrographically tested before pouring and alloy modification.
HEAT TREATING
In-house T6 heat treatment allows castings to be checked for warp immediately after the solution quench and can be straightened while still soft. Castings then undergo a lower temp anneal to harden them.
In-house heat treatment gets you parts sooner that if they had to be sent out for processing.
We do all types of standard aluminum heat treating and can do custom heat treatments to customer specifications.
BLASTING
Most foundries blast parts with less expensive steel shot. This leaves an iron oxide residue on the surface of the castings that can rust and leave an undesirable rusty finish.  We use aluminum shot for routine blasting.
For delicate parts that may be damaged by a shot blaster, we hand blast parts with sand or glass beads.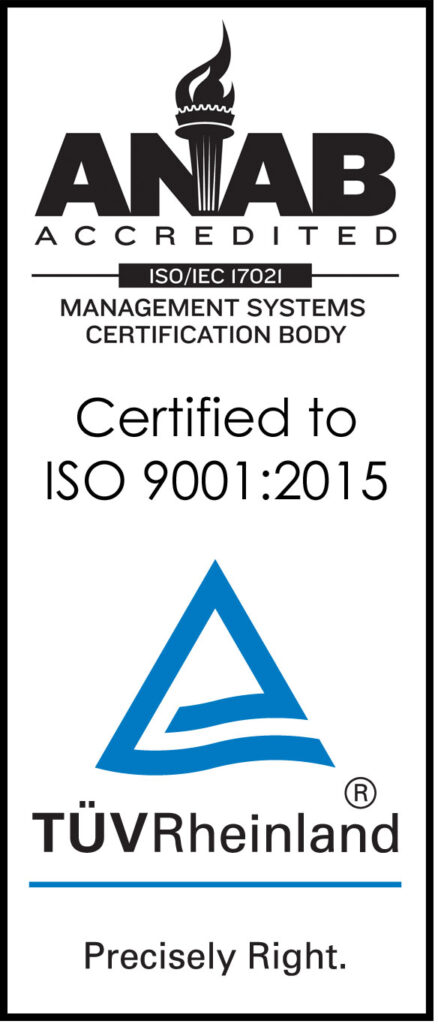 City Aluminum was certified under MIL-I-45208A in 1985, then NQS-9000 in 2001 and most recently ISO-9001 under TUV Rhineland in 2018, in our effort to always produce the best quality castings possible.
Do you need help with pricing your project? Fill out this form to get in touch.