City Aluminum Foundry operates a modern facility to handle most sizes and types of aluminum castings. We recently added a state-of-the-art no-bake production line in a new 11,000 sq. ft. expansion.
OUR NEW FACILITY IS LARGER TO SERVE OUR CUSTOMERS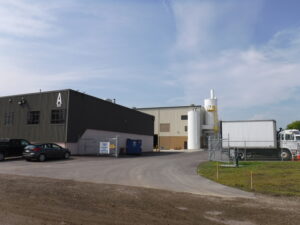 City Aluminum Foundry has added a new 11,000 sq. ft. building, to our existing 23,000 sq.ft. facility, with a state-of-the-art no-bake production line.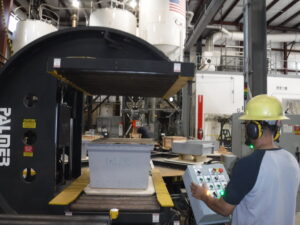 The Palmer roll-over allows us to draw molds out mechanically to give a good draw every time on very large molds.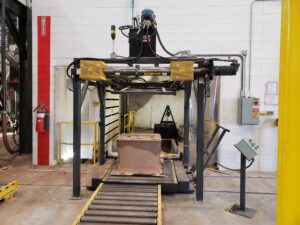 Our no-bake knockout process separates the part form the mold and then thermally reclaims the sand for use again.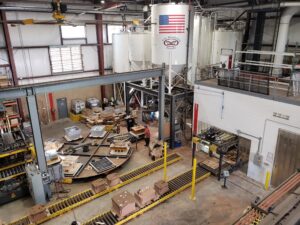 This system uses a Palmer mixer, with a turntable and a draw station that can handle a 60 x 80 inch mold with a draw of 30 inches.
The Palmer mixer uses thermally reclaimed sand to face the mold and mechanically reclaimed sand to keep costs down.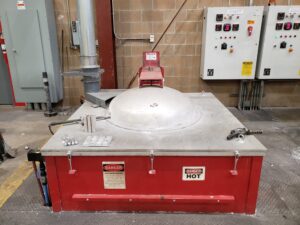 Two 2500 pound Dynarad electric furnaces support production on this line.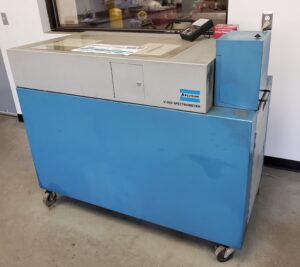 Our Angstrom spectrograph is used to assure that all metal poured meets Aluminum Association chemical standards.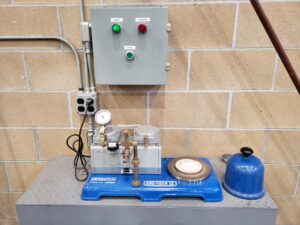 Our Herschal "Gas Tech" RPT gas porosity testing system provides a highly accurate method of monitoring the gas level of each furnace melt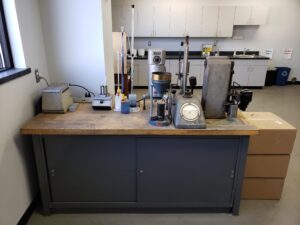 A Dietert Detroit sand lab helps provide accurate measurement of variables that must be controlled to produce castings of high quality.
CORE MAKING EQUIPMENT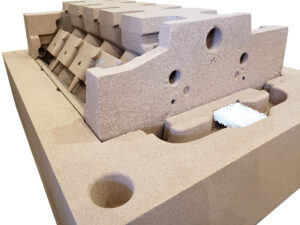 – Continuous mixer for Pepset molds
– Core blowers for SO2 cores up to 30 lbs.
– Shell core machines for up to 30" cores, for higher production.
GREEN SAND SYSTEMS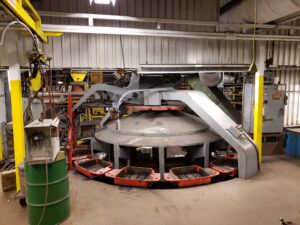 -States Engineering PLC-driven, fully automated, sand handling system.
-Four 1200 lb Inductotherm furnaces for a high production Hunter automatic molding line
-Hunter automatic molding machine which handles up to a 20″ x 24″ mold size.
-Two 1800 lb Dynarad furnaces and a 1200 lb Thermtronix furnace for floor molding.
-All electric resistance melting for high metal quality.
-Rotary degassing and flux injection thoroughly cleans the metal to prevent micro inclusions and remove gasses.
-BMM Weston Cope and Drag line; BT5; QCT3.
-Osborn Rotolift, floor molding, bench molding & squeezers provide efficient production for lower volumes.
FINISHING AND HEAT TREATMENT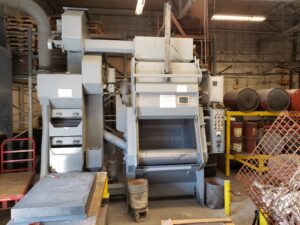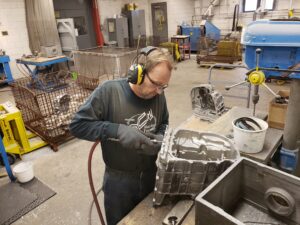 -Two ovens to take care of all in-house heat treating needs.
-One Goff Shot Blaster and two sand blasting cabinets.
-Two cutoff saws
-Six grinding stations
-Five benching and detailing stations
PATTERN SHOP
Fully equipped pattern shop for setup and maintenance of your patterns.
Do you need help with pricing your project? Fill out this form to get in touch.